West Virginia: 24.8% rate hikes; 10.9 points due to CSR sabotage
Wed, 10/11/2017 - 11:22am
In August I reported that the three individual market carriers in West Virginia (CareFirst, Highmark BCBS and Health Plan of the Upper Ohio Valley) were requesting average rate hikes of around 17.8% assuming CSR payments are made or 27.8% assuming they aren't.
Today the approved rate hikes came out for the first two. I don't know the final rate for the third company, but they're off-exchange only and have just 133 enrollees, so that won't move the needle one way or the other regardless:
The West Virginia Insurance Commission approved rate increases for Highmark West Virginia and CareSource Insurance's services sold in the "Obamacare" exchange.

MetroNews learned Tuesday premiums for Highmark West Virginia will increase by 25.6 percent, while CareSource Insurance will have a 19.6-percent increase in its rate.
The article goes on to falsely conflate the 2017 and 2018 rate increases, however:
Eight-five percent of the around 25,000 residents who received health care through the exchange last year received a government subsidy, but those who did not saw a 32-percent increase in monthly premiums.

Highmark said in October 2016 the increase was needed because of a sicker customer base.
The problem is that this has little to do with the rate increases for next year; Highmark specifically called out both the CSR and mandate enforcement sabotage factors in their filings: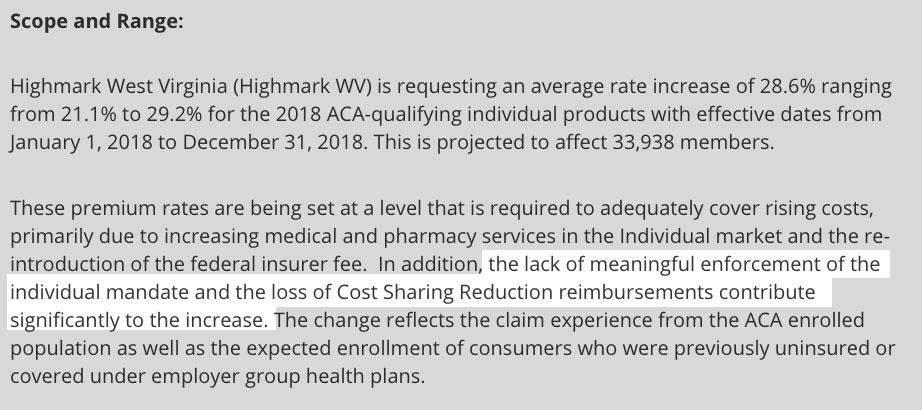 Furthermore, a trusted ACA Navigator friend confirms that in a conference call re. WV rates, Highmark and Carefirst stated that their rate increases would only be 15% and 7% respectively without the CSR factor, which is very close to what I was estimating earlier anyway.
All told, this gives an average rate increase of 24.8%, with about 10.9 points of that due specifically to CSR sabotage: