Idaho: Approved rate hikes: ~8.1% with CSR payments, 27% without them
Sun, 10/01/2017 - 10:36am
The Idaho Insurance Dept. has made things pretty easy for me. While they don't break out the individual market enrollment numbers by insurance carrier, they do provide the statewide, weighted average of those enrollees: 27% approved vs. the 38% average which was requested  requested (assuming no CSR reimbursement payments)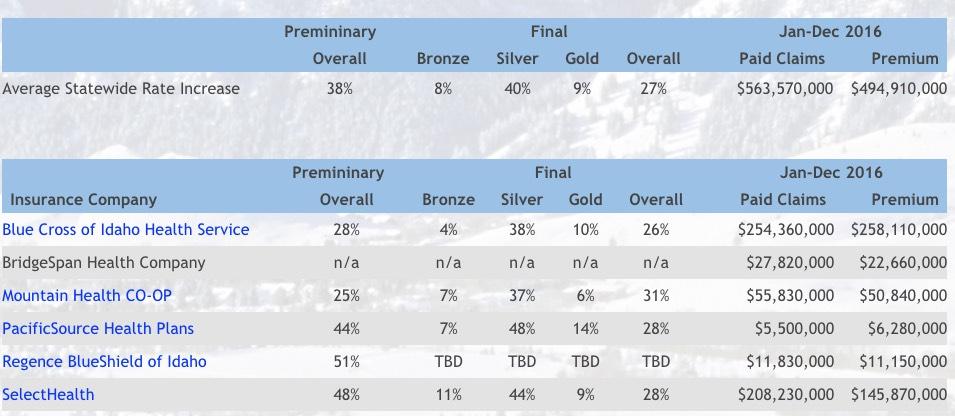 The table above does break out the rate increases by metal level, clearly showing that Idaho has decided to go the Silver Load route: Silver exchange plans are shooting up a massive 40% while Bronze and Gold are only increasing by 8-9% next year (none of the carriers are offering Platinum plans next year). It's pretty safe to assume that if CSR payments had been locked in by Congress, Silver plans would also only be increasing by around 8.5% as well. Since 94% of enrollees are in Bronze or Silver plans, that would make the with-CSR average around 8.1% overall.
In other words, fully 18.9 percentage points, or fully 70% of the actual average rate hike, will be due specifically to Trump's threat to cut off CSR payments (and the Congressional GOP twiddling their fingers instead of formally appropriating those payments for next year).
The Idaho DOI called this out quite explicitly back in August as well, which also seems to indicate that not only is Idaho doing "Silver load" but appears to even be going the full "Silver Switcharoo" route since their press release states that the increase is hitting Silver plans on the exchange (as opposed to both on & off exchange). I'll have to clarify this, however:
Silver level plan rate increases

The proposed increases for Silver level plans on the exchange are significantly higher this year, even more than the increases for Bronze or Gold level plans, due to the potential refusal by the federal government to fund the Cost Share Reduction (CSR) mechanism. The CSR requires insurance carriers selling plans through Your Health Idaho to lower deductibles and out-of-pocket maximums on Silver plans for enrollees who earn below 250% of the federal poverty level. "I call on Congress to either repeal the CSR requirement or fund the program," said Director Dean Cameron. "That action alone would reduce the proposed increase by at least 20% on the Silver plans." The premium requests for the Silver level plans reflect the cost of the CSR benefits since the carrier is still obligated to provide the benefits regardless of whether or not the program is funded at the federal level.

The proposed increases to Silver plan premiums would also result in an increase in advanced premium tax credits (APTC) for those eligible and purchasing coverage through Your Health Idaho.Individuals who are not currently receiving APTC are reminded to check for eligibility again this year. "Ironically, Congress may spend more of our federal tax dollars through higher APTC's than if they funded the CSR mechanism," said Director Cameron. The Department recommends that all individuals work with a licensed insurance agent to choose the best plan based on their needs.