UPDATE: New York: Good News: Avg. rate hikes drop further yet! Bad News: There's a catch...
Fri, 08/25/2017 - 5:48pm
File this one under "Be Careful What You Wish For".
Just a couple of days ago I reported that the New York Dept. of Financial Services had issued their approved 2018 rate changes for the 15 insurance carriers participating in the state's individual and small group markets...and, in some welcome news, they whittled down the rate increases by a bit, from 17.7% on average to 14.5% on average in the individual market, and from 11.7% to 9.3% in the small group market.
Then, the very next day, Zach Tracer of Bloomberg News broke this story:
New York State's biggest hospital system plans to stop selling Obamacare plans, blaming a costly plank of the law and uncertain prospects for a fix amid a wider Washington brawl over health care.

Northwell Health said in a statement that it will wind down its four-year-old CareConnect Insurance Co. business over the next year, after it suffered financial losses linked to a program designed to steady the exchanges where consumers can buy coverage.

The hospital system also said that uncertainty around the fate of the Affordable Care Act had clouded its business prospects, contributing to its decision to pull down the shutters.

"It has become increasingly clear that continuing the CareConnect health plan is financially unsustainable, given the failure of the federal government and Congress to correct regulatory flaws that have destabilized insurance markets and their refusal to honor promises of additional funding," said Michael J. Dowling, Northwell's chief executive officer.
The story behind CareConnect's closure is pretty interesting stuff, and well worth a read...but for me, the main question is the impact on the average 2018 policy premium rates.
According to the state DFS, total individual market enrollment in New York is around 349,000 people, and CareConnect holds about 9.1% of them (the official number in the article is 30,476, or 8.7%, so there's a small discrepancy there). CareConnect also happened to be approved for one of the higher rate increases prior to their announcement: 23.5% on average. By removing them from the equation completely, the statewide average rate increase actually drops by another 1.1 percentage points, to 13.4%. Of course, that also means over 30,000 current enrollees will have to shop around for another carrier this fall...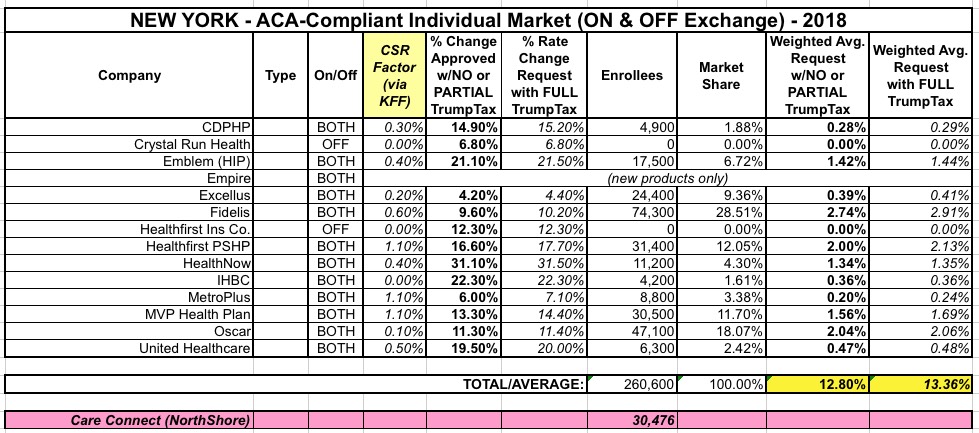 The small group market didn't really see this effect, however.. CareConnect asked for a 14.9% increase but was only approved for a 9.1% hike. Since the average small group increase including CareConnect would've been around 9.3%, CareConnect dropping out actually increses the average slightly, although by a nominal amount (in addition, CareConnect only holds 6.1% of the small group market anyway).
UPDATE: I forgot to give credit to "msf3" for bringing this to my attention (I was already planning on posting something about CareConnect dropping out but had forgotten about the impact on the average rate hike).
Also, msf3 notes that I misread CareConnect's small group request: I was looking at Aetna instead of CareConnect. CareConnect actually requested a 19.3% increase but was only approved for a 15.5% hike for small group plans, and holds a 7.3% market share, so this does impact the small group market in a similar fashion, knocking the statewide average down a bit from 9.3% to 9.0%: