What's In A Name? 20th Century Fox shows poor judgment, confuses people re. deadline (UPDATED)
Wed, 01/25/2017 - 8:40pm
A few weeks ago, frustrated with the disturbingly large number of Trump supporters (and, let's face it, plenty of non-voters and even a few Hillary supporters) who still seemed to be unaware that "Obamacare" and "The Affordable Care Act" are the exact same thing, I whipped up a snarky and admittedly sarcastic infographic trying to clue them in.
A few days later, after calming down a bit, I reworked the infographic into a nonjudgmental, more informative version: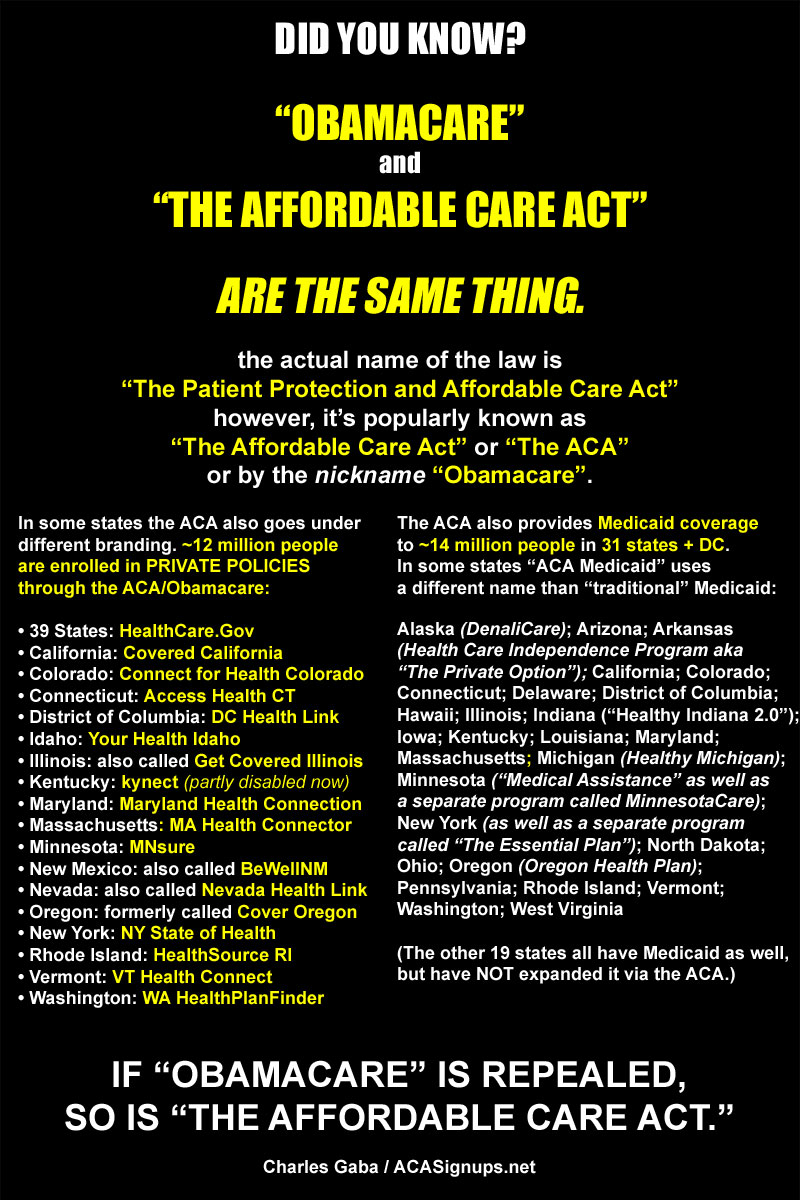 On a related note, I've mentioned in the past that once in awhile, I've had site visitors who seem to be under the impression that ACASignups.net is itself the place to go to sign up for ACA-compliant health insurance (that is, people seem to be confusing it with HealthCare.Gov, which is the actual official website for signing up for coverage across 39 states). It's pretty obvious that this isn't the case once they get here, but it's understandable seeing how there was once another site called ACASignup.net (without the "s" at the end of "signup") which was a third-party insurance broker selling heallthcare policies of some sort. That site is now offline, however.
Anyway, I mention all of this because I just had something brought to my attention which bugs the hell out of me.
Ironically, the website which broke this story and deserves credit for making it public goes by the name of Obamacare.net (which, full disclosure, is a partner site of HealthNetwork, which took out a featured ad on this site about a year ago). As they reported earlier today:
20th Century Fox Launches Viral Marketing Campaign That Is Confusing People Trying To Sign Up For Obamacare

We received some emails from Americans who were either frustrated or confused by the website HealthcureGov.com, that they accidentally clicked on after searching for "Obamacare Enrollment" in Google. After replicating this same thing within Google, we can confirm that it seems that some marketing team involved with the promotion for the upcoming release of the movie A Cure For Wellness has clearly decided to take advantage of the hot button issue that is on the minds of tens of millions of Americans, "Obamacare".

Running ads promoting a movie is one thing, but what you will find if you venture over to Healthcuregov.com which is obviously intentionally confusingly similar to Healthcare.gov, is a website that looks very similar to the government exchange. They've even gone so far as to create an almost 100% identical favicon.

This is really poor taste and it might not be exactly clear to 20th Century Fox marketing that this is not only going to upset a lot of people whose time they just wasted, but it could actually get them in a lot of trouble legally.
The worst part about the "fake" website is that it includes a false deadline showing 23 days left to enroll...even though the actual deadline is January 31st, just 6 days from now. Why 23 days? Because the movie opens on February 17th. The problem, of course, is that some people are bound to visit the fake site and assume they have an extra 17 days to enroll when they don't...and given that this could very well be the final Open Enrollment Period under the ACA, that's doubly cruel.
Now, if this "fake" site had been in place since before the November election, I might not mind so much. Everyone was expecting Hillary Clinton to become the next President, in which case the ACA would be safe for the foreseeable future, although making people think they had 2 more weeks to enroll than they actually do would still be pretty rude.
However, it's worse than that...because a WHOIS lookup of the domain name "HealthCureGov.Com" shows that the domain was registered just one week ago: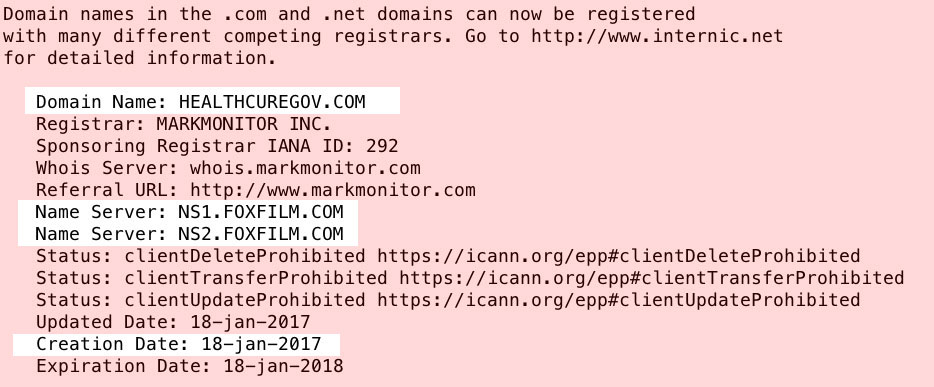 Yes, with only 13 days left in what could very well be the final chance for people to sign up for ACA-compliant health insurance policies, and in the middle of an unbelievable amount of chaos and confusion over whether the ACA (Obamacare) is actually still available (and what the cut-off date is if it isn't), some marketing genius at 20th Century Fox decided it'd be a brilliant move to deliberately confuse the hell out of people by redirecting them to a website which not only wastes their time but fools them into thinking they have more time than they actually do.
Smooth move, guys. (Note that I'm not including a live link to the movie site; if you really want to check it out be my guest, but this is a bit of a turnoff for me).
UPDATE: Hah! OK, that was quick...just a few hours later, loading the HealthCureGov.Com still takes you to the "Cure for Wellness" website, but it skips the phony HC.gov-style splashpage (along with the misleading "deadline" date) and cuts straight to a creepy image of a woman floating in water: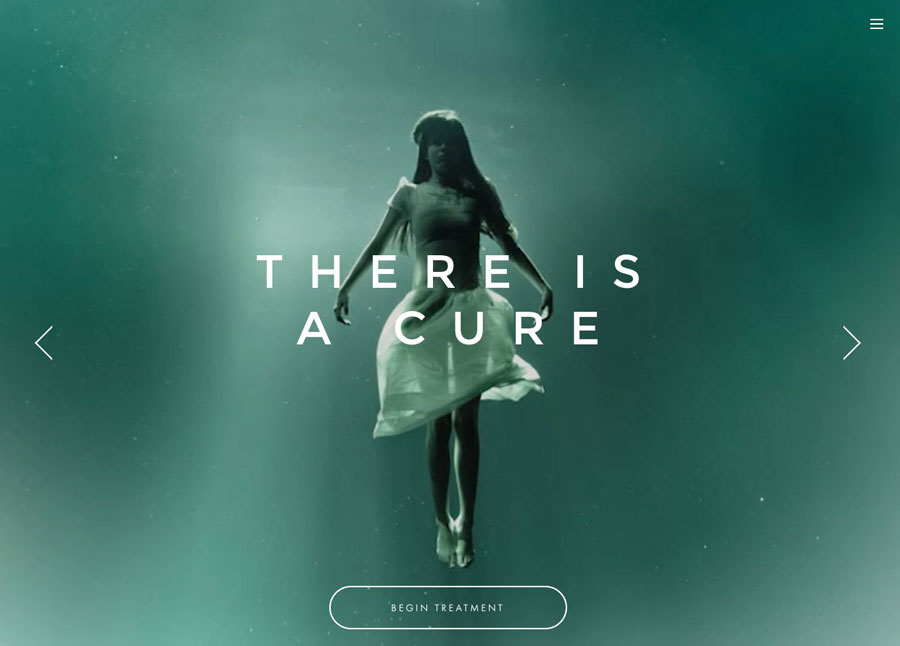 OK, that's better. Guessing they received some pissed-off phone calls. Still would prefer it if they simply redirected the domain over to the actual HealthCare.Gov, though.
UPDATE 1/27/17, 4:30pm: Well so much for that...loading that domain name brings up the fake "HC.gov"-looking website splashpage again.
As noted by commenter CT Planner below, they have improved it somewhat...by removing the "...to enroll" from the top right corner (while still leaving "21 days left") and adding a disclaimer at the bottom:
*HeathCureGov.com is an not an insurance marketplace and is not affiliated with any exchange, and is not a licensed insurance agent or broker.
They also changed "Watch Video" to "Watch Trailer", added the title of the film at the top and changed the body text to "In Theaters February 17", which help lessen the confusion.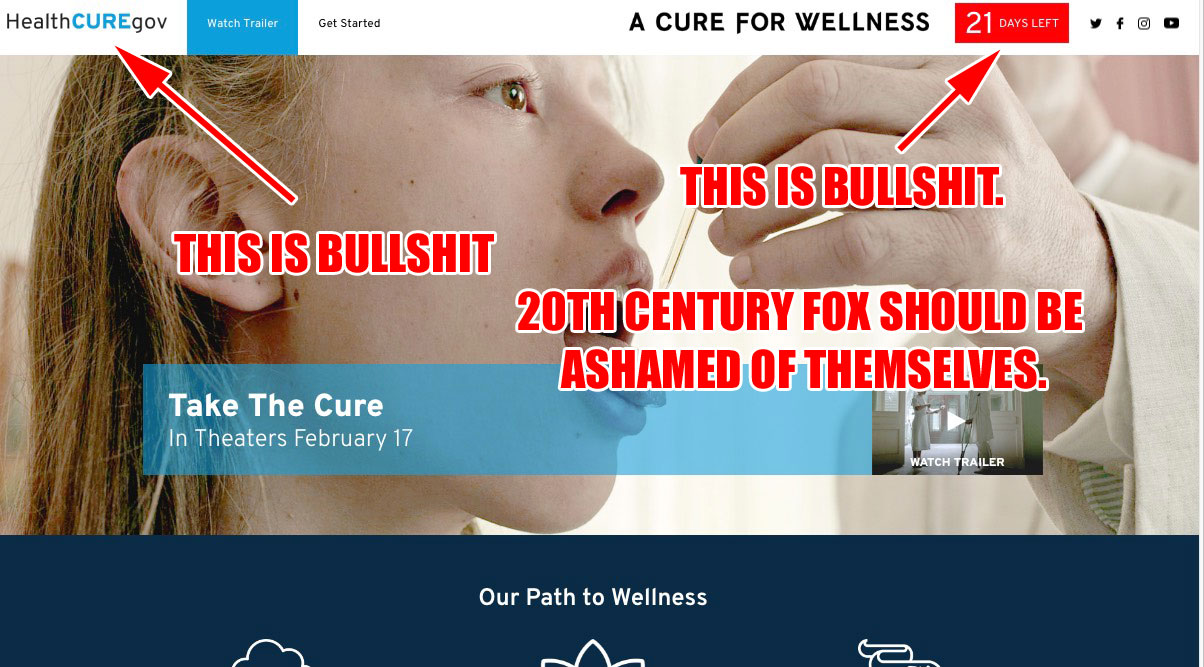 All of these steps show that they recognize the potential for confusion...but they don't realize that the gimmick itself was simply a lousy idea from the start.
In addition now the Trump administration pulled the TV advertisements for HealthCare.Gov, causing confusion and misinformation. This makes that infinitely worse, especially the "21 days left" part.