Idaho: *Approved* 2017 indy market rate hikes: 24% (vs. 28% requested)
Thu, 09/22/2016 - 2:18am
The final rate approvals for the Idaho indy market are either positive or negative, depending on your POV. On the one hand, the statewide weighted average is roughly 24%. On the other hand, this is 4 points lower than the 28% requested average from the carriers. As I noted in June, Idaho is among the only states which also posts exactly how much each carrier earned in premiums and paid out in claims for both last year and this year to date, giving some insight into which carriers are making a profit or taking a loss on the indy market:

As you can see, unlike many other states, 4 out of 6 of Idaho's carriers have made money so far this year (or at least have brought in more than they've paid out, anyway). SelectHealth, however, has eaten $28 million in losses for the first half of the year, and it's my understanding that most carriers see higher claims in the 4th quarter of the year as people hit their deductible cap and try to squeeze in procedures before New Year's Eve. This, along with adminstrative costs/overhead presumably explains the 24% average rate hikes. Interesting that PacificSource originally only asked for an 8% hike, actually.
Also, here's the final approved Small Group market, where the numbers are less dramatic in both the requested and approved categories: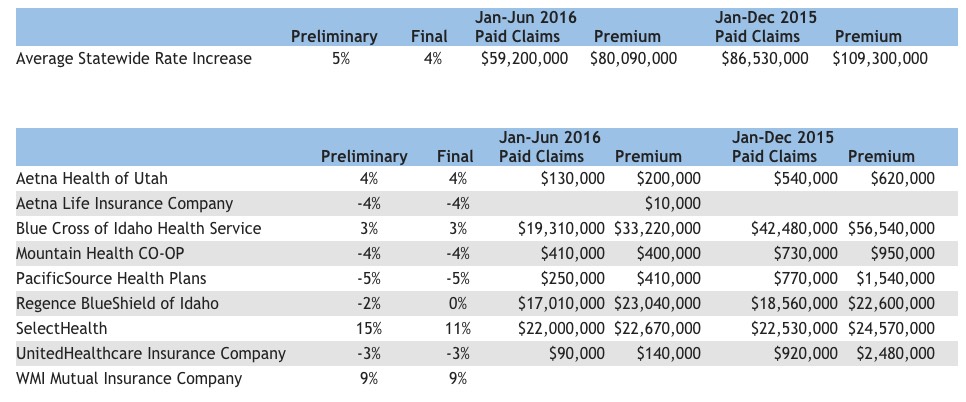 While the indy market rate hikes are pretty much the same as the national average this year, there's some good news as well:
Your Health Idaho announces health insurance options for 2017
Tax Credits Help Keep Rates Predictable for Idahoans

BOISE, Idaho – Idahoans will have a wide range of options for their health and dental insurance plans in 2017. The Your Health Idaho (YHI) Board of Directors approved 225 certified plans at their September meeting.

"We are pleased that Idahoans continue to have so much choice about their health insurance coverage," said Pat Kelly, executive director of Your Health Idaho. "Residents in each of Idaho's 44 counties will have at least four health insurance carriers to choose from, if not more."

During the upcoming open enrollment period, five different insurance carriers are offering medical plans on the exchange. There are also five insurance carriers that will offer dental plans on the exchange. Several states on the federal exchange have identified only one health insurer offering coverage on the marketplace for 2017.

...in 2017 the average monthly premium for the benchmark silver plan for a 35-year old, earning approximately $25,000 per year and receiving a tax credit, may increase by just two dollars a month.