New Jersey: Some important corrections & clarifications
Fri, 09/09/2016 - 8:54am
Over the past few days I've been doing some serious number-crunching in an attempt to break out the entire individual market between exchange-based, ACA-compliant off-exchange, grandfathered and transitional plans. For the most part, I believe most of my data is pretty close...but there's still some pieces of the puzzle missing here and there.
For New Jersey, my current numbers (as of March 2016) are:
On Exchange, Subsidized: 205,242
On Exchange, Unsubsidized: 44,153

Total On Exchange: 249,395

Off Exchange, ACA-Compliant: ~44,438
Off Exchange, Grandfathered: ~21,500
Off Exchange, Transitional: ~11,800

Total Off Exchange: 77,738

Total: 327,133
Officially, New Jersey is allowing "transitional plans" to remain in effect through the end of 2017, as noted here (which in turn links to this bulletin from the NJ DOI back in March.
However, about a month ago I received the following clarification from a very knowledgable and trusted source about the New Jersey market; this info slipped my mind this week:
Loved the write up on NJ. A few things that you might want to add – they have no transitional products. The way DOBI divides the market into "purchased directly from carriers" versus "purchased directly from the marketplace" is not quite the same as "on-exchange" versus "off exchange". That cut is really referring to the distribution channel, which is confusing. The only TRUE "off exchange" products in NJ – meaning ACA compliant plans that are not sold on the marketplace are sold by Aetna, CIGNA and starting this year Oxford (which is United). And conveniently, for those carriers they only sell off-market. They are required to participate in the individual market to sell in the small group so they make somewhat token offerings. All the rest of the carriers – Oscar, Horizon, Amerigroup, HRI, etc.. make all of their individual market products available on the marketplace.
OK, so they don't have any transitional enrollments after all. At first this sounds like a contradiction to the bulletin...but it's important to remember that all the bulletin says is that carriers are allowed to extend certain existing noncompliant plans through the end of 2017. That doesn't mean there are any to be offered, or that the carriers are required to do so (or that anyone is still enrolled in them if there are). That means I should scratch the 11,800 estimate under the "transitional" column.
It doesn't give any insight into the other categories, however. The On Exchange numbers are official as of 3/31 according to the official CMS March Effectuation Report, but the off-exchange and grandfathered numbers are still estimates based on the most recent Mark Farrah Associates estimates.
Then, this morning, I received the following from an anonymous source:
For New Jersey you can get the data in for on exchange / off exchange Carrier Summary section. It is different from your numbers.

NJ has no pre ACA individual plans as you can see from the data.

More significant for NJ has no short term insurance. Recall people are renewing this and using it as long term individual insurance. CMS tried to stop this and was overruled in the courts. This type of insurance is medical rated and degrades the ACA risk pool by draining healthy people. I have no idea how you would estimate this but it must be significant for CMS to have tried to take action. NJ was community rated since the 90s and the short term problem was identified and eliminated.

What is true of NJ and I expect other states is some husband / wife business owners are grandfathered on group plans. The ACA does not consider this to be a group of 2. NJ data does not break this out.
I don't know about the rest of it (no short term policies, husband/wife group plan categorization), but the link provided is legit; I've used it before. It goes to a bunch of Individual Market enrollment reports at the NJ Dept. of Insurance website. The "no pre-ACA individual plans" claim seems to indicate that in addition to there being no transitional plans, there aren't any grandfathered plans either!
Checking the link, this seems to be the key report (PDF):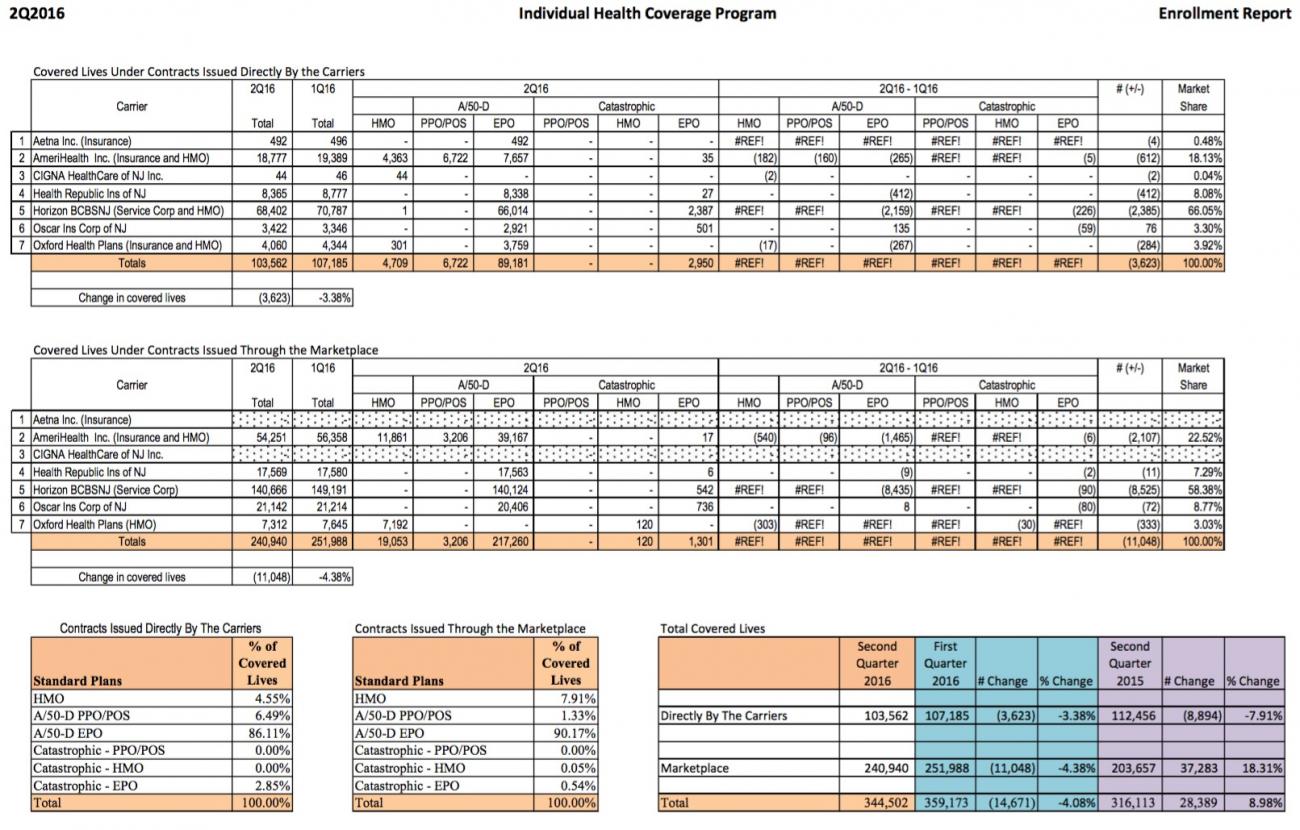 I know it's difficult to read; here's the relevant portion: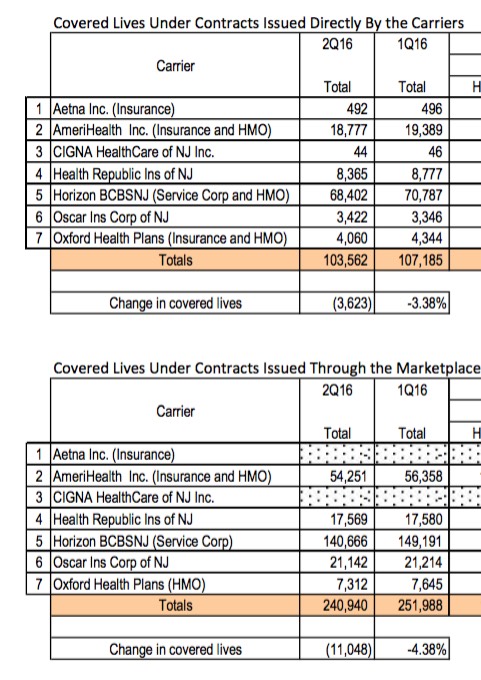 According to this report, as of March 2016, the breakout was:
Total On Exchange: 251,988
Total Off Exchange: 107,185
Total: 359,173
The On Exchange numbers match pretty closely to what the CMS report stated: 252K vs. 249K. Slight variances in methodology and timing could easily account for the variance. Since the CMS report includes every state and the difference is so nominal, I'm gonna stick with CMS's number here.
The Off Exchange numbers, however, are quite different: 107K vs. Mark Farrah's 78K estimate. In this case, I'm inclined to trust the raw NJ DOI data, since I don't know exactly what Farrah's methodology for getting their 78K estimate was.
The report also includes NJ's Q2 data, of course, but every other state is only as of Q1, so I'm sticking with that date for consistency (unless, of course, CMS and/or Farrah is willing to release Q2 numbers for me...)
Therefore, I'm revising New Jersey to:
On Exchange, Subsidized: 205,242
On Exchange, Unsubsidized: 44,153

Total On Exchange: 249,395

Off Exchange, ACA-Compliant: 107,185
Off Exchange, Grandfathered: NONE
Off Exchange, Transitional: NONE

Total Off Exchange: 107,185

Total: 356,580
...until further notice.