Nebraska: *Approved* 2017 avg. rate hikes: 35% (oh, and Aetna is JOINING the exchange??)
Tue, 09/06/2016 - 9:51pm
Huh. Back in June, when I first ran the requested rate hike numbers for Nebraska, it looked as though there were only two real carriers offering individual plans, either on or off the exchange: Blue Cross Blue Shield and Medica. UnitedHealthcare announced they were leaving NE along with a bunch of other states, and Coventry (aka Aetna) didn't have any filings for 2017, so I assumed they were bailing as well. Finally, the less time spent talking about "Enterprise/Freedom Life" the better. So...it looked like BCBS and Medica were it. Here's what the table looked like:

However, when Aetna gave their big bombshell announcement a few weeks back, it included a curious item: They specifically stated that they were staying on the ACA exchange in Nebraska (along with 3 other states)...which was good to hear amidst the otherwise grim news, but also confusing since, again, I still don't see any evidence of actual rate filings for either Aetna or Coventry via either SERFF or RateReview.HealthCare.Gov. Weird.
In any event, today I found this article at Live Well Nebraska, which claims that...
A sampling of individual health insurance rates for Nebraskans next year shows increases that will average about 35 percent on the Affordable Care Act marketplace, with some increases near 50 percent.

...Figures issued Friday by the Nebraska Department of Insurance showed increases ranging from 12 percent to nearly 50 percent for a sampling of policies that would take effect Jan. 1.

The figures compared 2016 and 2017 rates for Blue Cross Blue Shield of Nebraska, Aetna Health Inc. and Medica, the three companies that will offer policies to Nebraskans on the exchange when open enrollment starts Nov. 1.
Welp. That's pretty cut & dry...apparently Aetna will be on the exchange. Sure enough, when I checked the NE DOI website, here's what I found: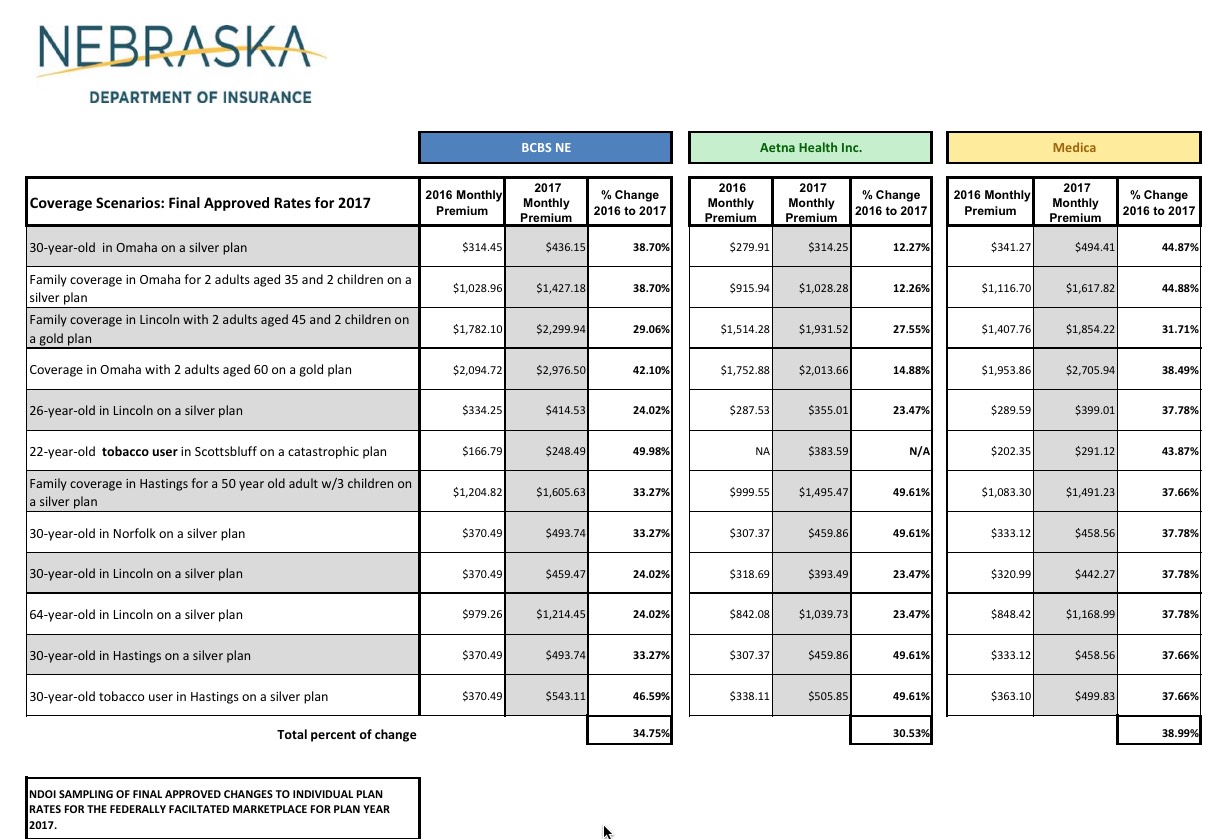 On the one hand, this is just a sampling of premium scenarios...and running a simple average of the three doesn't account for the relative market share of the three companies.
On the other hand...well, a simple average does end up at virtually the same figure (34.8%) that I had estimated for the requested rates without Aetna.
Normally I wouldn't compare an approved hike without having the corresponding request, but under the circumstances, I think I'm on solid ground here. Nebraska: 34.9% requested, 34.8% approved.