HC.gov Week 4 Snapshot: 2.04 Million (under by 6% weekly, 1% to date); STATE BY STATE included!
Wed, 12/02/2015 - 2:53pm
I still expect the current week to drop substantially due to it being Thanksgiving week. Note that last year the number dropped about 35% during Thanksgiving week before skyrocketing again the week after that; a similar drop this year would bring it down to around 330K for Week Four...although I'm gonna adjust my Week 4 projection upwards to 370K given the higher-than-expected results for Week Three.
Health Insurance Marketplace Open Enrollment Snapshot - Week 4 • November 22 – November 28, 2015

Four weeks into Open Enrollment and consumers continue to show a strong interest in exploring their health care options and signing up for coverage. In the fourth week of Open Enrollment, almost 395,000 people selected plans using the HealthCare.gov platform, totaling over two million plan selections since November 1. In addition to national data, the Week 4 snapshot includes state-by-state plan selection estimates for those states using HealthCare.gov
That's 394,732 to be precise, vs. my projection of 370,000; I undershot a fourth week in a row, by about 6.3% for the week.
For the full 4 week period, that's a total of 2,040,430 through 11/28 vs. my projection of 2.02 million, meaning that I'm under by exactly 1% cumulatively :)
Here's the full breakdown: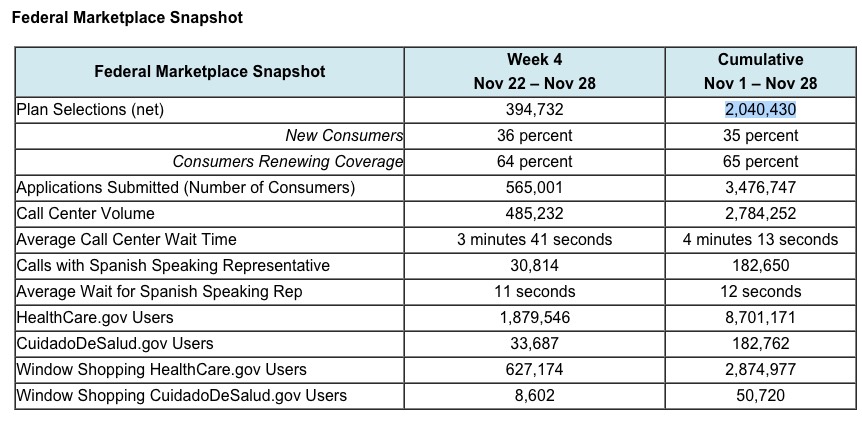 Interestingly, the "Renewal vs. New" ratio continues to hover around the 2:1 point; I was expecting it to have shifted to more like 60/40 this week, but that's not a major issue.
In terms of the number of new additions, Jed Graham of Investor's Business Daily wrote a hand-wringing piece about this last week, noting that in the first 3 weeks of OE3, HC.gov only enrolled 87% as many new people on the federal exchange for 2015 than had done so for 2014: 577,000 vs. 667,000.
This is true...and yes, even with the 4th Week numbers added in, the number of new additions this year (around 720,000) is lower than last year (around 1.18 million). In fact, it's down to a much larger degree...nearly 40%!
HOWEVER, there's a very important difference: This year's Open Enrollment Period started two weeks earlier. That's extremely important because the deadline for January coverage has NOT changed.
In other words, last year's "4th Week" ran from 12/07 - 12/13...right near the December 15th deadline. This year's 4th Week ran from 11/22 - 11/28...there's still 17 days before the deadline. Given how dramatically enrollments tend to spike in the final week or so of enrollment periods over the first 2 years, it's no surprise that this makes a huge difference in the two.
This also means that it's equally unfair to compare the "Unique Visitor" traffic between HealthCare.Gov and CuidadoDeSalud.Gov (the Spanish-language version of the site).
A more accurate comparison, now that Thanksgiving is out of the way and accounted for in both yearly Open Enrollment Periods (given that the 12/15 deadline for January coverage hasn't changed), is to ask this question: How many people have selected plans two weeks ahead of the deadline?
As of 11/29/14, it was 765,000 people.
As of 11/28/15, it was 2.04 million people.
Yes, that's right. With 17 days to go before the January deadline (16 days last year), 2.7x as many people have either selected or renewed a private policy via the federal exchange.
Now, this doesn't necessarily mean that much; it could simply mean that a higher percentage of current enrollees are actively re-enrolling this year, as opposed to passively autorenewing all at once around 12/17. However, even that's significant, since it suggests that a lot mroe enrollees are shopping around this year, which is a very good thing.
As for the new enrollee factor, here's how that racks up:
As of 11/29/14, around 370,000 new people had selected plans.
As of 11/28/14, around 714,000 new people had selected plans.
Yes, that's right: With 17 days to go before the January deadline (16 days last year), nearly twice as many new people had signed up for a private policy via the federal exchange.
UPDATE: With the addition of today's Maryland update, I have now confirmed at least 2,272,733 QHP selections nationally.
Based on a 4th straight week of undershooting, I'm going to bump up my Week Five HC.gov projection from 600K to 670K, although, once again, I'm not increasing my overall projection (still around 11.2 million for HC.gov, 14.7 million nationally):
But wait, there's more!!
Last year, CMS didn't start breaking out the weekly numbers by state until around the 8th week of Open Enrollment. This year they've started doing so in Week 4! Woo-hoo!!