DISTRICT OF COLUMBIA: 19,321 QHPs thru 3/11 (w/explanation)
Wed, 03/18/2015 - 3:38pm
Arrrrrrgh!!! Rachel Karas has provided a helpful heads' up regarding the latest enrollment data out of the DC exchange:
.@DCHealthLink enrolled 91,934 people in QHPs, Medicaid, SHOP from 10/1/13 through 3/11/15, Director Mila Kofman said today. #acasignups

— Rachel S. Karas (@rachelkaras) March 18, 2015
When I asked for clarification, she broke out the numbers:
@charles_gaba 91,934 is 2.3% up from 89,852 you had as of 3/8. 21,826 QHP, 54,096 Medicaid, 16,012 SHOP. Where's your 18% from?

— Rachel S. Karas (@rachelkaras) March 18, 2015
The problem (and the "18%" she refers to) is this: According to the ASPE report, DC's official QHP selection tally as of 2/21/15 was 18,465 people.
If they really have enrolled 21,826 people as of 3/11/15, that'd mean they managed to enroll another 3,361 since 2/21...increasing total enrollment by over 18% in just 18 days. That's 186 people per day. During the off-season...and not even the tax season SEP, since that didn't start until 3/15 in DC.
186/day would be a faster rate than DC was hitting during open enrollment (18,465 / 100 days = 184 per day). There's simply no way that's happening right now.
OK, so what's going on here? Well, as I've noted before, the problem lies in the start date: 10/1/13. For whatever reason, the DC exchange keeps listing the cumulative enrollment data including all of last year's open enrollment, even when a substantial number of those people are no longer enrolled.
How can we figure out the correct number of 2015 enrollees? Well, thankfully, Ms. Karas also provided a link to the actual DC Health Link dashboard report, which includes this slide: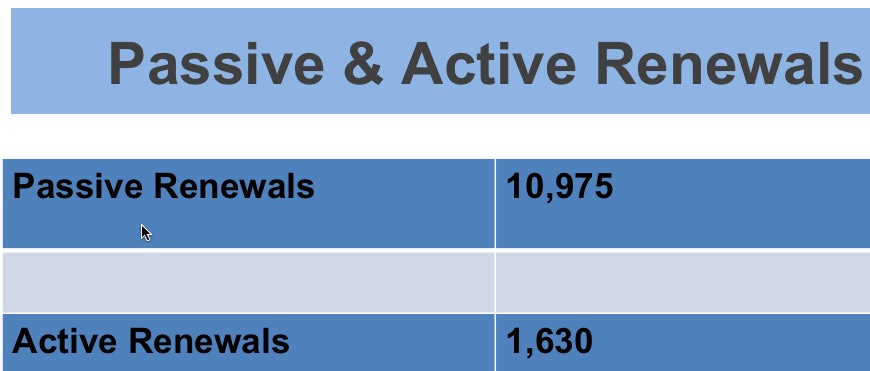 OK, add those up and you get 12,605 enrollees from 2014 who renewed their policies.
The next question is how many 2014 enrollees didn't renew. To answer that, here's the DC enrollment data from as close to 11/15/14 as I have available: October 7th:
From October 1, 2013 to October 7, 2014, 60,771 people have enrolled through DC Health Link in private health plans or Medicaid:

 15,110 people enrolled in private health plans through the DC Health Link individual and family marketplace.
 14,486 people enrolled through the DC Health Link small business marketplace.
 31,175 people were determined eligible for Medicaid coverage through DC Health Link.
Now, this number went up ever so slightly between 10/8/14 - 11/14/14, but we're basically looking at 15,110, of which 12,605 renewed. That means 2,505 didn't renew their 2014 polices (or never paid in the first place).
That means that the actual total number of 2015 enrollees in DC is: 21,826 - 2,505 = roughly 19,321 people as of 3/11/15.
Compare this against the 18,465 in the ASPE report and you get 856 additional people over those 18 days, or 47 per day. This is about 26% the daily rate of DC during open enrollment, which seems about right.
Don't get me wrong, I very much appreciate the DC exchange issuing continuing off-season enrollment reports...I just wish they'd only include the 2015 numbers when they do so.
Fortunately, I can use that 10/7/14 report to measure against going forward...but still, that's so unnecessary...yeesh...
As for the Medicaid and SHOP numbers, those I'm not so concerned about, since they don't have deadlines for enrollment anyway, although the currently enrolled numbers are likely still somewhat lower than the ones listed at the top of the page.