Minnesota: 61.1K QHPs, first hints at #ACATaxTime data?
Fri, 03/13/2015 - 2:09pm
The good news is that MNsure is continuing to provide off-season enrollment reports. The only bummer is that they appear to have switched to monthly reports, but I guess I can live with that:
Latest Enrollment Numbers

March 12, 2015

MNsure provides a robust enrollment metrics summary to the MNsure Board of Directors at each regularly-scheduled board meeting. This page will be updated on board meeting days.

Health Coverage Type Cumulative Enrollments
Medical Assistance 90,839
MinnesotaCare 31,070
Qualified Health Plan (QHP) 61,109
TOTAL 183,018
Unlike today's DC update, which seems highly questionable due to the "...since Oct. 2013" wording, MNsure's report only includes 2015 enrollments, and the numbers, while still impressive, are much more reasonable.
Minnesota reported 59,704 QHP selections as of 2/21/15. As of March 8th they're reporting 61,109 (the text above reads 3/12 but the actual dashboard report makes it clear that the actual data was through 3/08):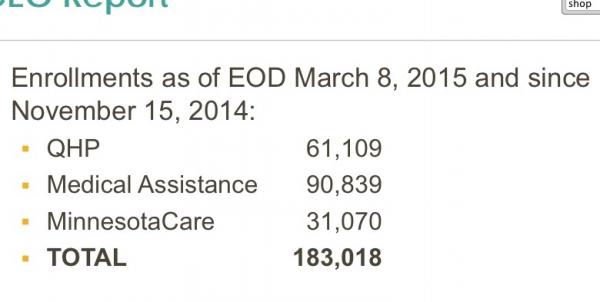 So, that's 1,405 more people added in 15 days, or about 94 per day.
By comparison, they enrolled 597/day during the actual Open Enrollment Period (including the "waiting in line" extension. That means that so far, MN is enrolling people during the off-season at around 15% their OEP rate.
For comparison, last year the off-season QHP selection rate averaged roughly 16% of the OEP rate (6,600/day vs. 39,900/day).
One thing to note, however, is that unlike most states which aren't starting their #ACATaxTime special enrollment period until Sunday, Minnesota already started theirs on March 1st. This means that in MN's case, at least, their off-season tally is being padded by people taking advantage of the tax season SEP, although I can't imagine they're gonna bother separating those folks out from the "normal" off-season crowd.
On the other hand, this number only includes the first 8 days of MNsure's tax season SEP; there's no way of knowing whether this rate will go up or down as April 15th approaches.
Meanwhile, Medicaid and MinnesotaCare are up to 90.8K and 31K respectively.