Off-Topic: Poll: Which Blonde '80's Movie Jerk is Mitt Romney?
Fri, 01/30/2015 - 9:30am
So, Mitt Romney, who spearheaded the original version of the Affordable Care Act (aka Obamacare) in Massachusetts a decade ago, and then ran for President on a platform of repealing essentially the same law implemented nationally that he pushed through at the state level, has decided to run for President again.
With that in mind, just for the heck of it I'm reposting something that I originally posted at Daily Kos almost 3 years ago:
OK, take a good, long look at this political cartoon first:
Got that in your head? OK, now, answer the question (and yes, the character is still a Blonde '80's Jerk even in the couple of movies that weren't actually made in the '80's):
Is he Robert Prescott as Kent in "Real Genius"?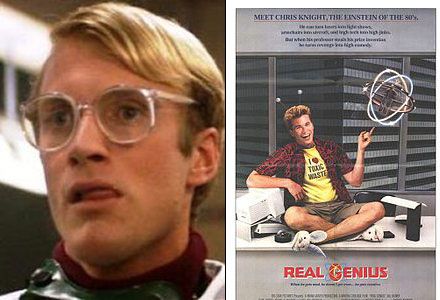 Is he Robert Prescott (again) as Cole Whittier in "Bachelor Party"?
Is he James Spader as Steff McKee in "Pretty in Pink"?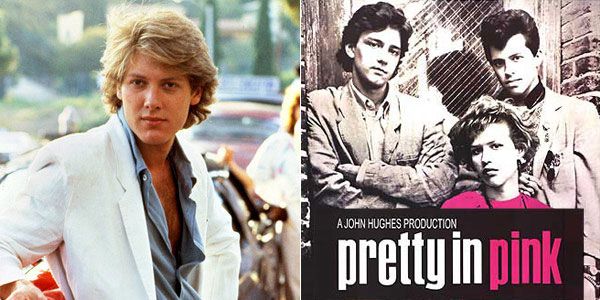 Is he Ted McGinley as Stan Gable in "Revenge of the Nerds"?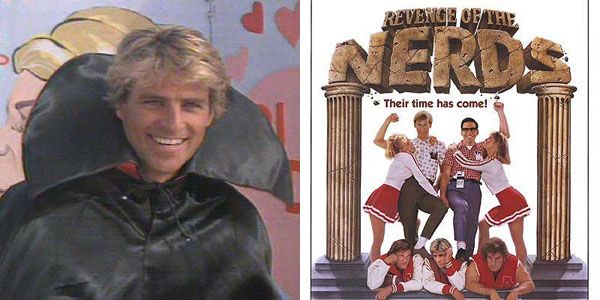 Is he Aaron Dozier as Roy Stalin in "Better Off Dead"?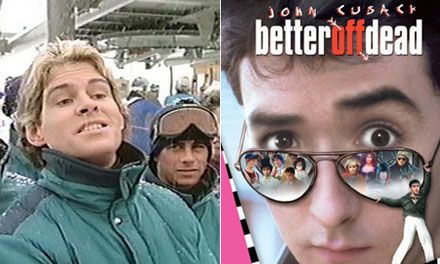 Is he Dylan Kussman as Richard Cameron in "Dead Poets Society"?
Is he Matt Damon as Charlie Dillon in "School Ties"?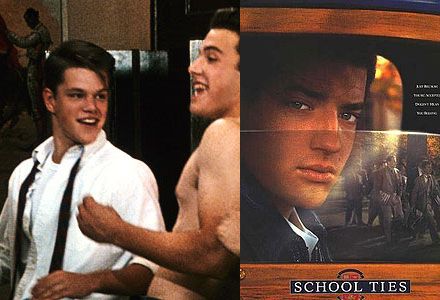 Is he William Zabka as Johnny Lawrence in "The Karate Kid"...
...OR William Zabka as Greg Tolan in "Just One of the Guys"...
...OR William Zabka as as Chas Osborne in "Back to School"???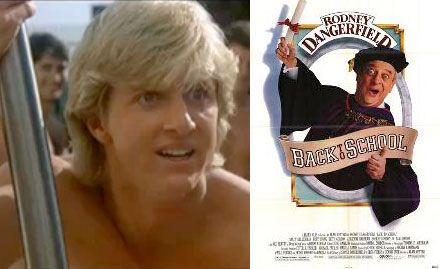 Perhaps he's David Spade as Rand McPherson in "PCU"?
...or, as others have suggested, Mark Metcalf as Doug Neidermeyer in "Animal House"?
UPDATE: At the time, several people pointed out that
if I'm gonna bring Animal House into the picture,
the more obvious comparison is
James Daughton as Greg Marmalard:
In addition, 2 other excellent contenders were suggested
(both of which are essentially duplicate characters
to Steff McKee and Aaron Dozier from John Hughes and Savage Steve Holland respectively anyway):
Craig Sheffer as Hardy Jenns in Some Kind of Wonderful...

...and Matt Mulhern as Teddy Beckersted from "One Crazy Summer"
BONUS! For those who are old enough to remember all of these films, here's a gem--an awesome music video starring *and directed* by the King of '80's Blond Movie Jerks himself, William Zabka, that somehow manages to merge The Karate Kid, Raising Arizona and a Cars video together:
(watch the whole thing for a great cameo at the end!)