Massachusetts: Chalk up another 1,200 QHPs & 3,700 Medicaid
Tue, 01/13/2015 - 2:26pm
Massachusetts continues to set the example (are you paying attention, CoveredCA??), releasing near-daily enrollment reports and regular weekly reports with hard numbers on QHP enrollments every week (including payment data, I should note):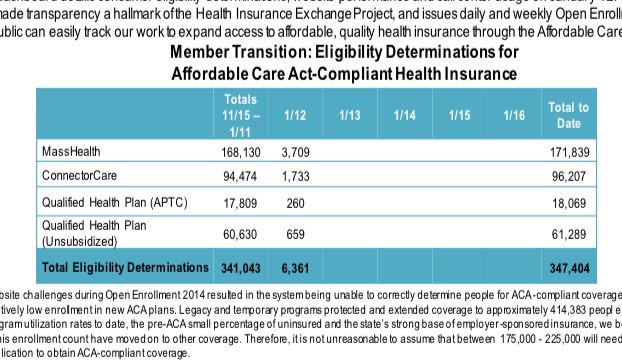 Again, assuming 45% QHP selections out of the 2,652 determined eligible for private policies, MA should have tacked on another 1,200 or so yesterday, bringing their QHP total up to around 89,600 to date.
In addition, they've enrolled another 3,709 into MassHealth (Medicaid).