Massachusetts: 67.7K QHPs, 117K Medicaid confirmed, PAYMENT DEADLINE EXTENDED
Tue, 12/23/2014 - 2:02pm
Today is the final day for Massachusetts residents to enroll in a private healthcare plan if they want coverage to start on January 1st. As of last night, they had a total of 248,711 eligibility determinations, of which 131,732 are for private QHP policies (the other 117K have already been enrolled in Medicaid, aka "MassHealth", which is impressive in and of itself).
So, how many of those nearly 132K people have actually selected a plan? Well, since open enrollment started on 11/15, anywhere between 45-55% of total QHP determinations as of that day have also selected a plan. If that was the case here, I'd say that the number is around 50%, or around 66,000, which would be an impressive 4,600 spike over yesterday's confirmed 64.1K.
UPDATE: OK, I've received the official total: As of midnight last night, 67,759 people had selected a policy, or 51.4%. I've also confirmed that about 47% had paid their first premium already...32,000 people, or more than the total enrollees as of last April.
While this is pretty good, I'm actually rather surprised that it's not higher given that the deadline is tonight at midnight. Presumably the MA exchange site is getting slammed hard right now.
Plus, of course, 117K added to Medicaid.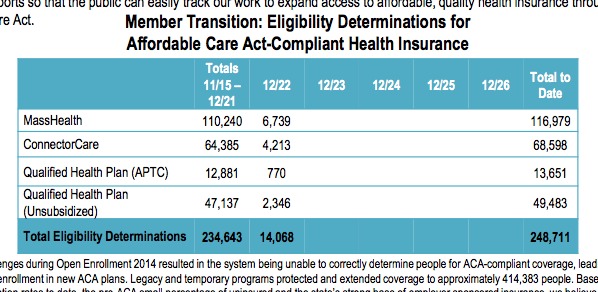 In addition, the MA exchange just issued this press release:
STATEMENT OF MAYDAD COHEN ON MASSACHUSETTS DEADLINE TO PAY FOR JANUARY 1, 2015 HEALTH INSURANCE COVERAGE

BOSTON – Tuesday, December 23, 2014 – Maydad Cohen released the following statement on the Massachusetts deadline to pay for January 1, 2015 health insurance coverage:

"Given the heavy interest in signing up for Jan. 1, 2015 coverage, we will accept online and paper payments through Sunday, Dec. 28. We need to be very clear, however, that consumers must select and check out a plan by midnight tonight, Dec. 23. The plan selection deadline for Jan. 1 health insurance is immovable. However, if consumers complete that critical step, they can go online to pay, or ensure we receive a check, by midnight Dec. 28 and still be guaranteed Jan. 1 coverage. Providing a little extra time to make payments should help consumers and ensure we continue to successfully expand access to quality, affordable insurance to people who need it at the start of 2015. In addition to its normal Saturday hours of operation, the Health Connector's call center will be open this Sunday from 9 a.m. to 3 p.m. to assist consumers who decide to take advantage of the new payment window.

Due to the time it takes to process payments, people who mail a check between now and the receipt deadline of Dec. 28 may receive their health plan's ID cards a few days after Jan. 1. However, their coverage will be in place for the start of the month."