WTF??? Idaho "extends" their deadline until 12/20...but they had previously said it was 12/23 in the first place??
Sat, 12/13/2014 - 3:54pm
OK, this is a bit...um...confusing.
Back on October 1st, Your Health Idaho posted the following blog entry launching their "window shopping" tool for 2015 private policies, which also included very specific deadlines for both selecting a plan as well as paying the first premium for January 1st coverage:
BOISE, Idaho – As the December 23 deadline for health coverage to begin on January 1 is days away, Your Health Idaho and insurance companies selling plans on Your Health Idaho are taking several steps to provide consumers with a smooth transition to coverage.

...In order to give Idahoans extra time to make their first premium payments, all four of the health insurance companies that are selling individual and family plans on Your Health Idaho, Blue Cross of Idaho, BridgeSpan, PacificSource and Select Health have announced that they will voluntarily extend the payment deadline for January premiums. This means that Idahoans who enroll in a Your Health Idaho plan by December 23 for coverage on January 1 will now have an extended deadline to make their first premium payment (see below for payment deadlines).

"I would like to thank the Idaho carriers for extending the payment deadline. This extension goes a long way to getting Idahoans the coverage they need by January 1, and every extra day to make the first payment goes a long way," said Amy Dowd executive director of Your Health Idaho.

If you select a health plan by December 23 on Your Health Idaho, you will have coverage effective January 1. Any claims submitted prior to payment will be held pending processing of the first premium payment.
Heck, they even include an embedded image table which once again gives 12/23 as the selection deadline for January 1st coverage: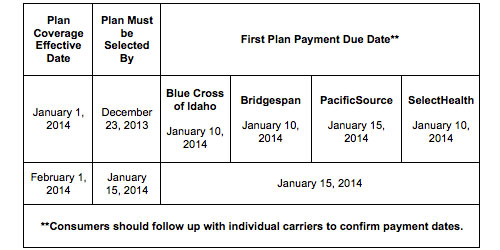 So, December 23rd is the plan selection deadline, right? We're all clear on that? Good.
If that's the case, though, then what the heck is THIS post--just added yesterday--all about?
Deadline Extended for Idahoans Who Want Health Insurance in the New Year

BOISE, ID – Idahoans who want health insurance starting on January 1 will get a few more days to pick a health insurance plan. On Friday, Your Health Idaho announced it was extending the deadline to select a plan until December 20 at 11:59 p.m. MST. If Idahoans want to apply for a tax credit to help lower their health insurance costs, they must complete and submit their tax credit application by December 15.

"Our mission is to ensure all Idahoans who want health insurance have the opportunity to enroll in a plan," said Your Health Idaho executive director, Pat Kelly. "Extending the deadline until December 20 gives Idahoans extra time to receive their tax eligibility and find a plan that is right for them and their families."

For coverage to be effective, payments must be received by the insurance carrier by December 31, 2014.

Insurance agents and brokers across the state are available to help Idahoans who want their health insurance to start at the beginning of the New Year. If consumers want to find an agent or broker in their community who can help them free of charge, they can visit www.YourHealthIdaho.org and click on "find help near you."
This completely contradicts both of the deadlines that Your Health Idaho themselves posted back in October!
To summarize:
In October, YHI specifically stated that the plan selection deadline is 12/23/14 and the payment deadline is either 1/10/15 or 1/15/15.
Yesterday, YHI specifically stated that the plan selection deadline is "extended" until 12/20/14...but the payment deadline is 12/31/14.
Someone has some serious explaining to do here. I don't know how many Idahoans have already enrolled, but it sounds like there's gonna be a lot of confused and/or pissed off residents who thought they had 3 extra days to enroll and up to 15 extra days to pay for their January coverage here.