Massachusetts: QHPs likely 15% higher than 2014 total already; Medicaid breaks 60K
Mon, 12/08/2014 - 3:58pm
Hmmm...for some reason, the MA Health Connector chose to give a daily report today instead of the weekly report which they've been doing on Mondays.
On the one hand, this is OK because it still includes the daily breakdown of QHP determinations. On the other hand, the weekly reports gave the hard QHP selection numbers, which aren't included here.
I'm going to assume that the ratio of actual selections has moved up to around 60% over the weekend (from the 48-50% it was at earlier) as we move towards the January cut-off point. If so, that means that QHP selections in Massachusetts should now be well above the 2014 total (31,695) and should be somewhere around 36,400 as of last night: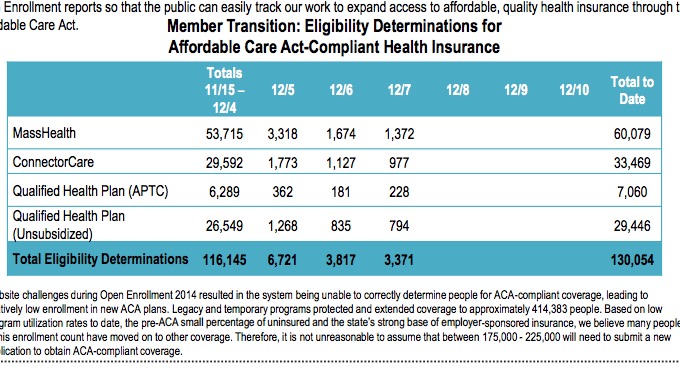 Meanwhile, Medicaid (MassHealth) enrollments have broken the 60K mark; I've been informed that these are effective immediately.