New Hampshire: Invisible Hand of the Free Market slaps "Rate Shock!!" in the face again
Tue, 10/28/2014 - 9:44am
Last year, New Hampshire had but a single participant in the federal ACA exchange: Anthem BCBS. This year, not one, not two, not three, but four other companies have joined in: 
Two more insurance companies say they plan to sell policies in New Hampshire's health exchange in 2015, bringing the total to five carriers. The suddenly crowded field is a sharp contrast to this year, when only Anthem is offering policies through healthcare.gov.

Harvard Pilgrim and Minuteman Health, both based in Massachusetts, announced their intentions to join the exchange earlier this year, and now the New Hampshire Insurance Department says Assurant Health and Maine Community Health Options have also submitted plans for regulatory review.
We don't have a full average-premium percentage breakdown like there are for other states, but this is certainly promising:
So far, three of the five companies that will sell policies for coverage that begins Jan. 1 have released estimated premiums. For comparison purposes, the premium for a 40-year-old non-smoker in the so-called "silver plans" are estimated to range from $270 per month to $288 per month. AT Harvard Pilgrim Care the premium would be $279 per month, while Anthem Blue Cross and Blue Shield of New Hampshire would be $281 per month and Maine Community Health Options would be $288 per month.
We can get some idea of what people can expect by plugging that data into HC.gov for 2014 (note that this is the full premium price before any tax credits are applied):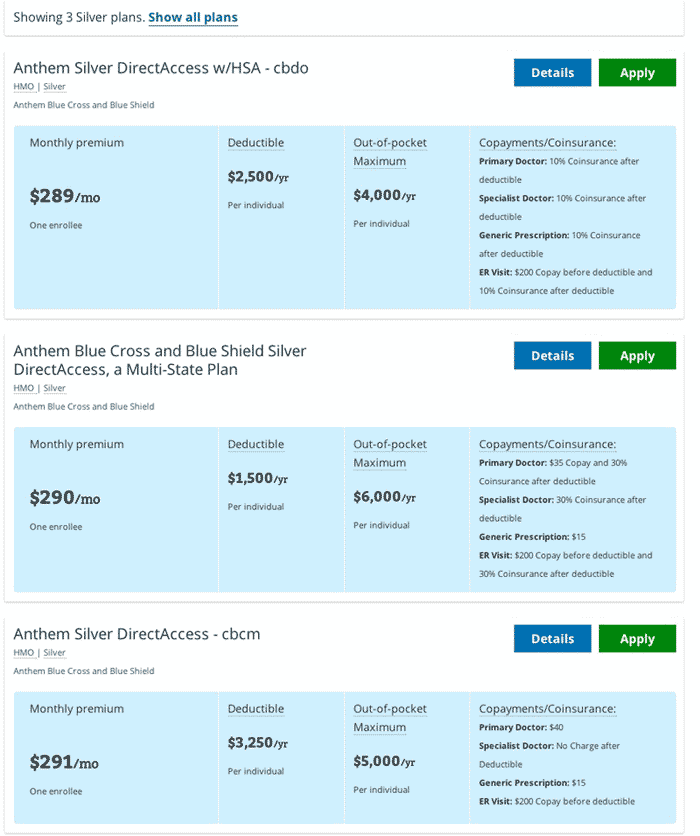 I checked several other counties in New Hampshire; Anthem's pricing was exactly the same for all of them. It appears that for this situation, at least (a single 40-year old, Silver plan), the premium in New Hampshire will actually drop by between 0.3% - 7.2% depending on which plans you're comparing against:
If you currently have the $291 2014 plan and switch to the $270 2015 plan, that's a 7.2% savings.
If you currently have the $289 2014 plan and switch to the $288 2015 plan, that's a 0.3% savings, although really, I don't see anyone switching just to save $1 per month; that's where other factors like networks, co-pays, etc. come into play.
Obviously this may vary depending on Metal Level, number in household and what their ages are, and the other 2 companies haven't chimed in yet--but it certainly looks like New Hampshire rates will be either dropping a bit or holding even at worst (and most people go with Silver plans anyway).