Washington State: Dramatic turnaround from last week; QHPs up 13K in 10 days, March avg. now 25% higher than Feb
Tue, 03/25/2014 - 7:08pm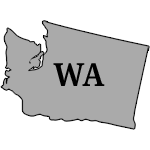 A huge turnaround from last week, when it looked like WA was starting to slow down. Exchange QHPs are up from 112,225 as of 3/13 to 125,207 as of 3/23...an increase of 12,982 in 10 days (not quite the "past week" described in the press release, unless it took the first 3 days for 901 of them to go through).
The impact on the projection chart is equally dramatic: Washington State has now gone from running 37% below February's daily average to 25% higher than February did.
On the Medicaid side, new enrollments now stand at 250K "strict expansion" and 130K "woodworkers", up from 235K & 122K respectively, for a total increase of 23,000 new enrollees.
OLYMPIA, Wash. – Washington Healthplanfinder today announced a final push for residents to enroll in Qualified Health Plans through www.wahealthplanfinder.org by the end of open enrollment on March 31. More than 12,000 residents enrolled in plans this past week ahead of the deadline, which is four times the weekly enrollment average.

Washington Apple (Medicaid) enrollment continues throughout the entire year, as well as enrollment in health plans for American Indians and Alaskan Natives.

"The expected surge in last-minute enrollments has begun," said Richard Onizuka, CEO for the Washington Health Benefit Exchange. 

Enrollments Completed:

Qualified Health Plans: 125,207

Medicaid Newly Eligible Adults (through March 20): 250,202

Medicaid Previously Eligible but not Enrolled (through March 20): 129,862

Medicaid Redeterminations (Previously Covered - through March 20): 390,033

Total: 895,304

In-Process Applications

Qualified Health Plan Applicants – Need to Pay: 66,470

*Note: These numbers reflect enrollments and applications through March 23.