Oregon: QHPs up 3,500 & Medicaid up 7,100...QHP rate TRIPLE Feb. for 1st week of March
Fri, 03/07/2014 - 7:29pm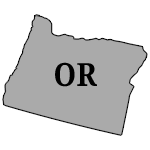 Well, Oregon's website may still be a complete disaster, but their manual enrollment process seems to be chugging along fairly well. Private QHPs are up 3,500 from 38,806 a week earlier, while Medicaid enrollments are up another 7,100 from 84,991.
Note that they've finally stopped including the "Fast Track" Medicaid numbers, presumably because they've already enrolled everyone they could find via that route:
March 7, 2014
Update: Private coverage and Oregon Health Plan enrollment through Cover Oregon

Total: 134,412 
Private insurance: 42,325
Oregon Health Plan: 92,087
Update: Something else very interesting about Oregon's situation. Take a look at their QHP enrollment history:
12/28: 18,337
02/01: 33,808 (15,471 in 35 days, or 442 per day)

02/28: 38,806 (4,998 in 27 days, or just 185 per day...a 58% drop per day, ouch!)

However, today they announced the number, as of (I presume) yesterday, the 6th, as:
03/06: 42,325 (3,519 in 6 days...or 586 per day)
That's right...in the first month of March, even with their website still being mostly useless, Oregon has managed to more than triple their February rate.
Don't get me wrong; this could simply be a clerical error from the 12/28 or 2/28 update, or even from todays, and there might have been some special one-time batch enrollment thing that was pushed through. Even if all of the data and dates are accurate, six days from a single state is way too early to even begin to make any projections.
Having said that, this is still certainly a positive start to the March home stretch.