Kentucky: QHPs hits 59K, Medicaid up to 185K, 860K total Feb. QHPs now likely
Thu, 02/20/2014 - 5:32pm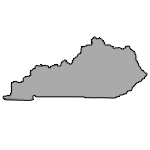 Not exact numbers, but these are reasonable given the previous breakdown (49,662 Private / 181,705 Medicaid): KY Governor Steve Beshear announced that the combined total of enrollments in Kentucky has hit 244,000, broken out roughly 25% to 75%, which would be 61K private, 183K Medicaid. However, to be safe I'm erring on the side of caution and making it 59K Private / 185K Medicaid until a formal press release comes out.
[as of Thursday], 244,000 Kentuckians have signed up for coverage through Kentucky's exchange, Beshear said.

About three-fourths of them enrolled in the state's expanded Medicaid program and the rest in private insurance plans. The state's performance has earned praise from PresidentBarack Obama.

"Those aren't just numbers," Beshear said. "They represent ... real improvement in people's health."
This is significant for another reason. Previously, Kentucky's limited February data made it look like private QHP enrollments had plummeted, down to 20% of their January rate.
However, this update shows a very different picture:
That's right--Kentucky has dramatically turned around, and is now showing a 30% increase in average daily enrollment instead of an 80% decrease.
The impact on the overall February enrollment rate is also dramatic, if not as much so: The 14-state sample is now showing just a 6% drop-off from January rate instead of the 30-40% drop-off that earlier data showed.
Remember, February is still likely to show a 20% drop overall simply due to it including 4 weeks (28 days) on the HHS report instead of January's 5 weeks (35 days), but breaking 860,000 private enrollments is looking very likely now.