GRAHAM-CASSIDY REPEAL BILL DEADLINE:
PROGRAMMING NOTE: Attn. Michigan Residents (MI-08, MI-11)
Sat, 07/15/2017 - 5:56pm
Hey Michigan Residents! Do you live in Michigan's 8th or 11th Congressional District? Are you sick of Mike Bishop (MI-08) and Dave Trott (MI-11) refusing to even talk to you about their "replacement" healthcare bill, which would tear away healthcare coverage for millions of Americans and hurt the coverage of countless millions more?
If so, come on out to either Plymouth (MI-11) or Orion Township (MI-08) TOMORROW, Sunday, July 16th, and join me, MI-05 Congressman Dan Kildee and State Representatives Christine Greig / Brian Elder as we explain just WTF is going on with the GOP's healthcare debacle (click links below to RSVP):
From 11am - 1pm I'll be joining U.S. Rep. Kildee and State Rep. Greig at the Plymouth Elks Lodge, 41700 Ann Arbor Rd. E. in Plymouth, MI 48170:
MI-11 includes the following major cities:
Auburn Hills
Birmingham
Bloomfield Hills
Canton Township
Clawson
Commerce Township
Farmington
Highland Township
Lake Angelus
Livonia
Lyon Township
Milford Township

Northville/Northville Township
Novi/Novi Township
Plymouth/Plymouth Township
Rochester Hills
South Lyon
Troy
Walled Lake
Waterford
West Bloomfield
White Lake Township
Wixom
Then, from 4pm - 6pm I'll be joining U.S. Rep. Kildee and State Rep. Elder at the Wildwood Amphitheatre, 2700 Joslyn Ct., Orion Township, MI 48360: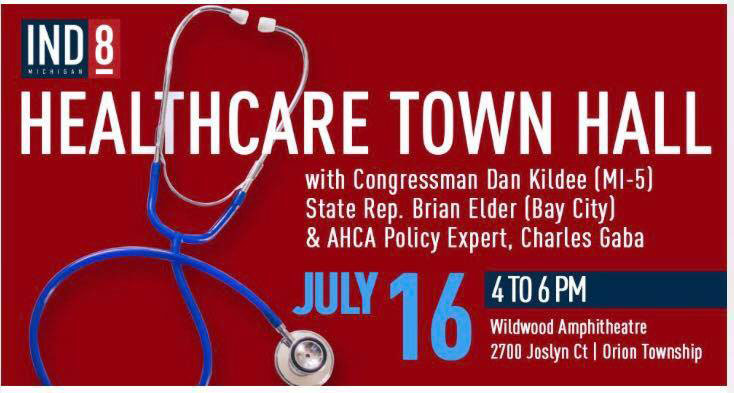 MI-08 includes the following major cities:
Rochester Hills
Clarkston
Lake Orion
Oxford
Fenton
Brighton
Independence Township
East Lansing
Howell
Lansing (part)
Mason
Okemos
Haslett