GRAHAM-CASSIDY REPEAL BILL DEADLINE:
REMINDER: #ACATaxTime Enrollment Period Has Started!! (in 46 states + DC)
Mon, 03/09/2015 - 9:44am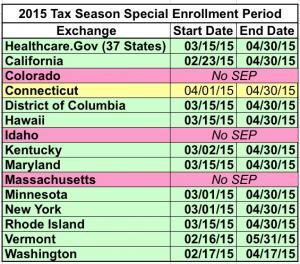 Now that the King v. Burwell Supreme Court oral arguments are out of the way (with radio silence expected until they announce the decision sometime in June) , the next Big Development to keep an eye on ACA-wise is...Tax Season! There will be plenty of stories about how many people have to pay back some/all of their 2014 tax credits, how many will receive additional tax credits...and, most germane to this site, how many additional people enroll via the exchanges to avoid having to pay (most) of the higher tax penalty next year for not being covered in 2015 during the Tax Filing Season Special Enrollment Period (SEP), or #ACATaxTime as I prefer to call it.
I've been maintaining an archive of what every ACA exchange policy is on #ACATaxTime. 47 states (+DC) are offering one (with different start/end dates); Idaho, Colorado and Massachusetts have officially decided not to do so.
6 states started their Tax Season SEP earlier; almost every other state joined in starting on March 15th. Connecticut is the odd man out; their SEP starts on April 1st: