Massachusetts: 122.6K QHPs estimated, 238K Medicaid confirmed
Wed, 02/11/2015 - 1:14pm
As of last Thursday, total QHP selections on the Massachusetts exchange were up to just shy of 119K. Between the weekend and the massive snowstorm that MA is digging out of, they went 5 days without a dashboard report, until today: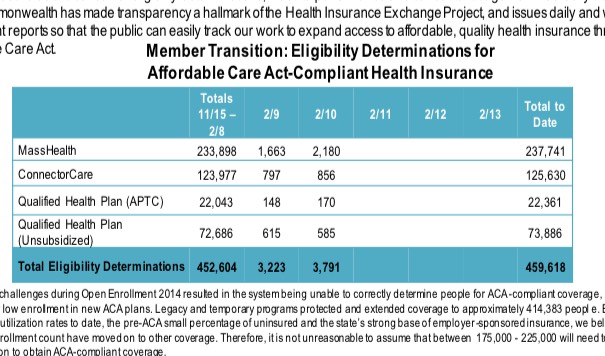 As always, I only have the QHP determinations to go by between their weekly reports. As of yesterday, those stood at 221,877, Subtract the 214,027 as of 2/05 and that's another 7,850 QHP determinations. Assuming 50% of those followed through with selecting a plan (a reasonable assumption at this point) and that's another 3,900 QHPs, or at least 122,600 QHPs to date.
Of course, that means that there's also another 99,000 people who started the process and have been approved for a private policy, but who may--or may not--have actually completed the process. Heading into the final 5 days, I presume that more and more of this enrollee pool will be scratched off the list; if, say, 80% of these folks follow through, Massachusetts would hit at least 200,000 QHPs by Sunday night.
I've already stated, repeatedly, that my original target of 300K for MA was simply absurd, based on my misunderstanding the nature of their "temporary coverage" situation. A week or so ago I downshifted this to 200K even, which is looking much more reasonable now.
Meanwhile, Medicaid enrollees are now up to 237,741.
UPDATE: OK, this is pretty minor, but the MA Health Connector just gave a very small data point:
Cohen: Since the website relaunch 11/15/14, the system has made 459,618 eligibility determinations in with 338,659 enrolled in ACA coverage

— MA Health Connector (@HealthConnector) February 12, 2015
The elegibility number is identical to the report above. The enrollment number includes both MassHealth (Medicaid) and paid QHP enrollees only. Subtract the 237,741 from that and you have 100,918 paid QHPs out of the estimated 122.6K selected, or an 82.3% payment rate.