OPEN ENROLLMENT BEGINS IN:
Colorado breaks 100K QHPs; nearly double the February rate
Posted on Tue, 03/18/2014 - 8:23am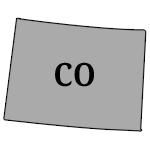 Whoa. Not an official update, but Colorado already had 93K QHPs as of Thursday the 13th; they're now at over 100K as of yesterday (the 17th). that's 1,750/day for the past 4 days, or 1,033/day in March so far. It doesn't specify QHPs vs. Medicaid, but CO was already at 135K Medicaid as of 3/01, so yes, these should all be private QHPs.
For comparison, Colorado was at 536/day in February, so CO in March is nearly double the February rate.
More than 100,000 Coloradans purchased health insurance through Connect for Health Colorado. 14 days left to enroll! http://t.co/jXVrGTnHQ0

— C4HCO (@C4HCO) March 18, 2014