OPEN ENROLLMENT BEGINS IN:
Connecticut: Over 58K QHPs; total up to 141K
Posted on Sat, 03/08/2014 - 4:26pm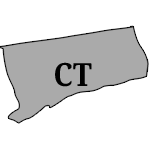 Connecticut's exchange PR person gave a new combined QHP/Medicaid tally of 141,233. The story was posted on the 7th but was actually updated on the 6th, so I'm assuming the number was as of the 5th. The previous number was around 58K Private QHPs and 82,100 Medicaid; using the same 41/59 ratio should bring these to 58,469 / 82,764.
Kathleen Tallarita, government and public affairs outreach manager for Access Health CT, said 141,233 residents statewide have signed up for health insurance through Access Health CT, created as the state's response to the federal Affordable Care Act. That surpasses the agency's goal of 100,000 new sign-ups in the first year.