GRAHAM-CASSIDY REPEAL BILL DEADLINE:
North Dakota: Medicaid up to 4K, facepalm on my own part
Thu, 03/06/2014 - 8:49pm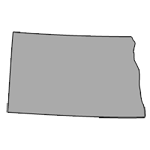 The good news is that North Dakota's Medicaid tally has gone up from 1,700 as of early January to over 4,000 at the beginning of February. The bad news is that due to an oversight on my part, this is actually a drop from what I had entered in that field (a confusingly-worded article in January led me to confuse enrollees with the potential pool, which was considerably higher). Anyway, ND Medicaid stood at 4,071 as of a month ago.
As of Feb. 1, 4,057 people in North Dakota had selected an insurance plan through the marketplace. That's up from 2,624 who chose a plan in the final three months of 2013. Another 4,071 here have been determined to be eligible for Medicaid or the Children's Health Insurance Program.